How to install Screenpresso?

Installation
When you run Screenpresso.exe for the first time, it asks if you want to install or start without installation.
Screenpresso installs by default in the user profile (%localappdata%\Learnpulse\Screenpresso) and doesn't require administrator rights.
If you want to install in Program Files:
Run again Screenpresso: Right click Screenpresso.exe and select Run as administrator
Click on the INSTALL on this computer button while holding the Control key or click on the sub-menu Install for all users: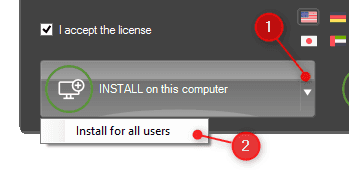 In both cases, your settings file will be stored in user profile (%appdata%\Learnpulse\Screenpresso) directory.
Voir aussi...